We're coming into cooler weather and Thanksgiving is a week away, made any plan? With the wide-open beach, no crowds, a cool coastal breeze with a beach camp fire at sunset you can't beat a weekend on Bolivar Peninsula with family and friends. Let the kids run free on the clean beach, take a look around Fort Travis and enjoy the view over Galveston Bay. Back-up to Rollover Pass and fish for that prized Flounder. Enjoy one of our great Seafood Restaurants. Checkout the birds at Anahuac Wildlife Refuge or just kickback on the deck of your home or vacation rental and enjoy the view. With an extended weekend for Thanksgiving get out and Explore Bolivar Peninsula...you'll love it!! (Sunset Photo from November 14 2016 on Loop 108 Port Bolivar Texas)
Wahoo....November Bolivar Business of the Month is...Stingaree Restaurant and Marina

"Dinner over the water", a family tradition for many, during the week, on weekends or during vacations yearly, open at 11am Wednesday thru Sunday. Fresh Seafood, Tender Steaks and mouth watering Seafood Platters. If you're a connoisseur of a lightly salted rim, an iced concoction with a hint of lime in a frosty mug, you can't pass up a Stingaree Muggarita, famous throughout Texas. A location for the true outdoors and sunset lover, a great day-trip destination from southeast Texas, Houston and surrounding areas.
DownUnder located under Stingaree Restaurant is an open air eatery with awesome burgers, mouth watering Crab Nacho's and an assortment of seafood baskets and finger food. Free Live Music with the open bay in view is like no other. Open Friday and Saturday with Live Music each night on weekends. The sunset from any view at Stingaree Restaurant is breathtaking and one your not gonna want to miss, bring your camera. With November come... Oyster Jubilee starting this Friday, enjoy Oysters on the 1/2 Shell, Cup of Oyster Gumbo, Oysters- Rockefeller, Bienville and Jose along with Deep Fried and French Grilled with side, this is one Texas sized platter served up Stingaree Style!!!
For more information on Stingaree Restaurant, DownUnder Restaurant and Stingaree Marina along with all the events and Live Music, visit their website online anytime at... www.Stingaree.com

For those visiting on Bolivar this Fall and Winter and need internet to keep up with friends, family or maybe the office, the following restaurants and businesses have FREE WIFI for customers to use, Stingaree Restaurant, Ocean Grille, Hardheads, Jose's, Tiki Beach Bar and Grill, The Gulf Range and Saloon, get-out enjoy a meal and stay connected while you enjoy your time on Bolivar.
Breaking News!!!! "I Love Bolivar Peninsula" Coffee Cups should be in by Thanksgiving Weekend, We'll announce next week where you can pick them up and cost, each edition is Limited, 11oz Ceramic Cups with Birds, Sunsets and more... These will be Limited Prints of the area we all love Bolivar Peninsula and its surroundings. Here is a sample of the first of 4 we'll have between now and Christmas!!!!!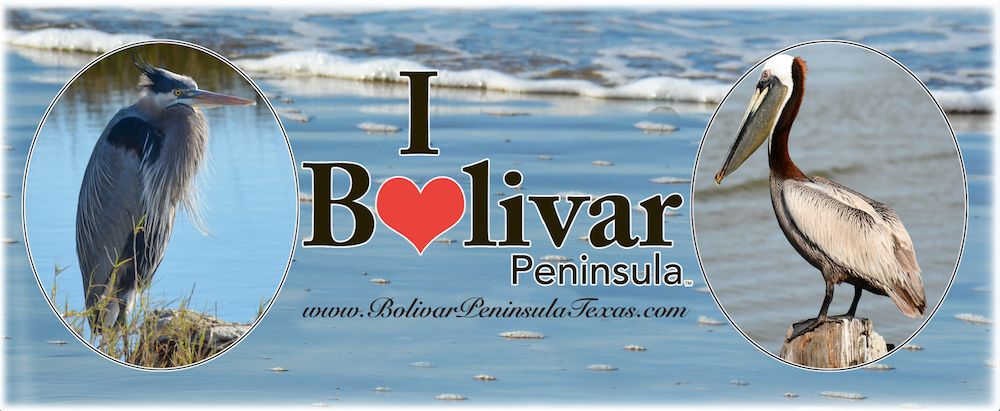 Live Music this Weekend in Crystal Beach, Texas on Bolivar Peninsula!!!

Stingaree Restaurant- Friday Night, "Crossroads Band"

Thanksgiving Weekend- Friday Night, "Bri Bagwell"
Saturday Night, "Jerry Diaz and Hanna's Reef"
Events this weekend or happening soon...
November 2016
Remax On The Water- Bolivar 10th Anniversary Golf Tournament- Calcutta Friday Night at Tiki Beach Bar and Grill with Live Music, Tournament Saturday.
Thanksgiving Dinner at- Tiki Beach Bar and Grill starting at Noon Thanksgiving Day!!!
Christmastide Market- Shop Local November 26th on Bolivar Peninsula Retailers.
December 2016
Chilly Willy Putt-Putt Tournament- The Gulf Range, proceeds support High Island Senior Class of 2017
Crystaland Christmas Parade- Starts at Crystal Beach Fire Station at 6pm!!!
Follow BolivarPenisulaTexas.com on Facebook for daily post of photos and watch for our Bolivar LIVE feeds from around Bolivar both on the ground and in the air!!!
For information on any of the above events please follow their link or visit our Events Calendar for all the yearly events on Bolivar Peninsula and in Crystal Beach, Texas.

For information on anything in Crystal Beach, Texas or on Bolivar Peninsula visit our website at BolivarPenisnulaTexas.com and check-out our LIVE Music Calendar or our Events Calendar for complete details.

Until my next thought, enjoy your weekend on our 27 Miles of Paradise known as Bolivar Peninsula, help Keep Our Beaches Clean and always Shop Local. Explore Bolivar Peninsula...you'll love it!!!
#explorebolivarpeninsula