We've all been in maniac mode since the first of the year, work, school, kids activities and more.... Thanksgiving is one of those relax holidays for many, when families gather and catch up on the last year. An extended holiday to get away for the big city, work and have time to load the car and go. Many it's a time to start planning for Christmas gatherings with family or New Years Eve with friends. When the time has come to, load-up the family, gather-up friends, make it an extended get-away and relax, watch the sunrise and set, not get any any big hurry and enjoy the view....come Explore Bolivar Peninsula...you'll love it!!! From now till Spring most all vacation rentals are at unbelievably low rates, save and stay a while, for discounted vacation rentals see out "Where To Stay" pages for Vacation Rentals or RV Parks.
Wahoo....November Bolivar Business of the Month is...Stingaree Restaurant and Marina

"Dinner over the water", a family tradition for many, during the week, on weekends or during vacations yearly, open at 11am Wednesday thru Sunday. Fresh Seafood, Tender Steaks and mouth watering Seafood Platters. If you're a connoisseur of a lightly salted rim, an iced concoction with a hint of lime in a frosty mug, you can't pass up a Stingaree Muggarita, famous throughout Texas. A location for the true outdoors and sunset lover, a great day-trip destination from southeast Texas, Houston and surrounding areas.
DownUnder located under Stingaree Restaurant is an open air eatery with awesome burgers, mouth watering Crab Nacho's and an assortment of seafood baskets and finger food. Free Live Music with the open bay in view is like no other. Open Friday and Saturday with Live Music each night on weekends. The sunset from any view at Stingaree Restaurant is breathtaking and one your not gonna want to miss, bring your camera. With November come... Oyster Jubilee starting this Friday, enjoy Oysters on the 1/2 Shell, Cup of Oyster Gumbo, Oysters- Rockefeller, Bienville and Jose along with Deep Fried and French Grilled with side, this is one Texas sized platter served up Stingaree Style!!!
For more information on Stingaree Restaurant, DownUnder Restaurant and Stingaree Marina along with all the events and Live Music, visit their website online anytime at... www.Stingaree.com

For those visiting on Bolivar this Fall and Winter and need internet to keep up with friends, family or maybe the office, the following restaurants and businesses have FREE WIFI for customers to use, Stingaree Restaurant, Ocean Grille, Hardheads, Jose's, Tiki Beach Bar and Grill, The Gulf Range and Saloon, get-out enjoy a meal and stay connected while you enjoy your time on Bolivar.

Breaking News!!!!"I Love Bolivar Peninsula" Coffee Cups are in and already on the shelves of retailers on Bolivar Peninsula for only $9.97. Restaurants and Shops with stock on hand are, Latitude 29 Surf Shop, Ocean Grille, Jose's Mexican Restaurant with more coming soon... These 11oz Ceramic Cups show the beauty of Bolivar Peninsula with photos of Birds, Sunsets, Beach, Lighthouse, Ferry and more... These mugs make great gifts, stocking suffers and conversation pieces when friends or family come to visit. They'll also keep the beauty of Bolivar Peninsula on your mind if your away from our 27 miles of paradise!!!! The first is out in a series of 4 mugs, get yours now and see how great coffee tastes out of your "I Love Bolivar" Coffee Mug!!!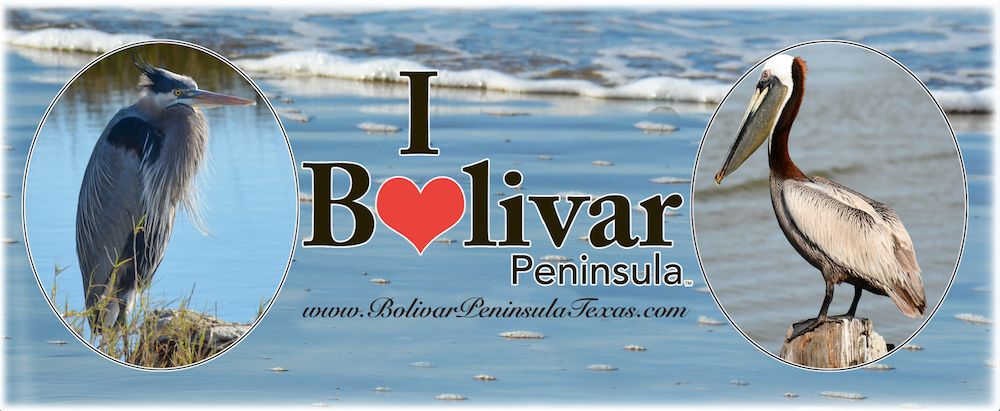 Thanksgiving Dinner at Tiki Beach Bar and Grill
Thanksgiving Dinner at Tiki Beach Bar and Grill!!!
Dinner kicks-off tomorrow, Thanksgiving Day at Noon, as always, Karen and Chris Gatlin make this a yearly event for all that want a great Thanksgiving Meal and it's FREE!!!!! Giving back to the community on this Holiday we all look forward to. Dinner is served at Noon, have a favorite dish, feel free to bring it and share with others!!! Dinner kicks-off with prayer and then the line begins, as always there will be with Football and Parades on the Big Screens. Enjoy your Thanksgiving Meal with family and friends at Tiki Beach Bar and Grill....
Live Music this Weekend in Crystal Beach, Texas on Bolivar Peninsula!!!

Stingaree Restaurant- Friday Night, "Bri Bagwell" NO Cover and Family Friendly
Saturday Night, "Jerry Diaz and Hanna's Reef"
Events this weekend or happening soon...

November 2016
Christmastide Market- Shop Local November 26th on Bolivar Peninsula Retailers.
Crystal Beach Club Properties- Open House November 26... 2672 Gillespie in Sandy Shores, Beachfront
December 2016

Chilly Willy Putt-Putt Tournament- The Gulf Range, proceeds support High Island Senior Class of 2017

Crystaland Christmas Parade- Starts at Crystal Beach Fire Station at 6pm!!!

Follow BolivarPenisulaTexas.com on Facebook for daily post of photos and watch for our Bolivar LIVE feeds from around Bolivar both on the ground and in the air!!!
For information on any of the above events please follow their link or visit our Events Calendar for all the yearly events on Bolivar Peninsula and in Crystal Beach, Texas.

For information on anything in Crystal Beach, Texas or on Bolivar Peninsula visit our website at BolivarPenisnulaTexas.com and check-out our LIVE Music Calendar or our Events Calendar for complete details.

Until my next thought, enjoy your weekend on our 27 Miles of Paradise known as Bolivar Peninsula, help Keep Our Beaches Clean and always Shop Local. Explore Bolivar Peninsula...you'll love it!!!
#explorebolivarpeninsula